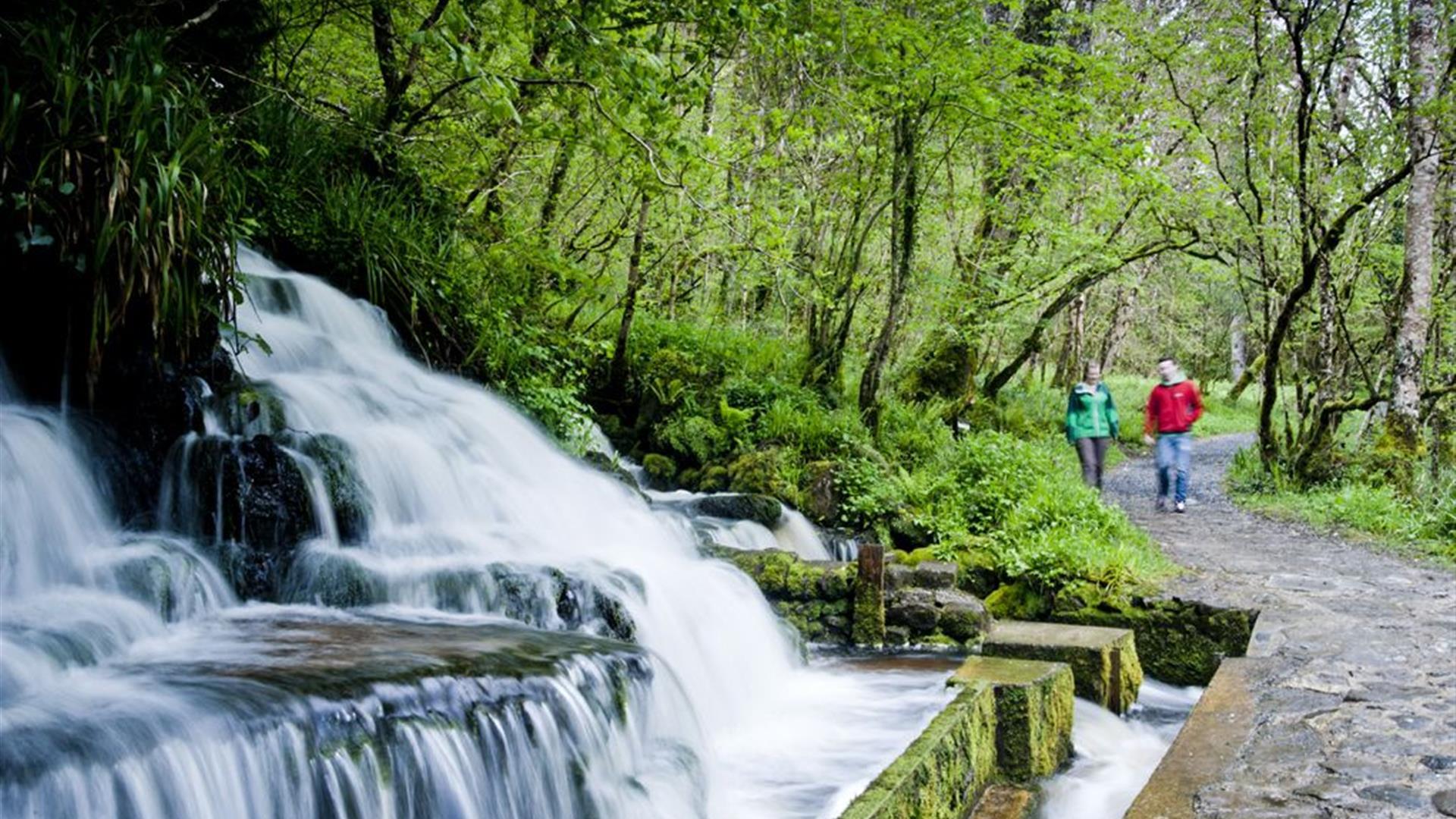 About
Marble Arch Nature Reserve (also known as the Cladagh Glen) is a vestige of an ancient ash wood clinging to the steep side of the Cladagh River gorge. It forms part of the wider Marlbank NNR which includes Killykeegan, Crossmurrin, Hanging Rock and Rossa Nature Reserves which are all linked by their landscape and shaped by the weathering of sedimentary Limestone. The site is also part of the Cuilcagh Lakelands Geopark.

The Marble Arch and the Cascades are arguably the highlights of this water-sculpted valley. The Arch over the river, formed when the cave roof collapsed, gets its name from the polished limestone which people believed was marble. The wooded glen is very atmospheric ensuring a magical walk for adults and children alike.

The glen had some fine planted trees of beech and various conifers, along with native hazels, ash and yew trees. In springtime bluebells, wood anemones and wild garlic carpet the valley floor, while toothwort can be found growing as a parasite on the roots of some of the hazel trees. Dippers and grey wagtails can be seen on the rocks in the middle of the fast-flowing Cladagh River, while in late summer silver-washed fritillaries occur beside the path. It is also home to the elusive pine martin and red squirrels.

There are areas where landslips on the steep sides of the gorge have taken trees with them, which adds to the interest of the site. There is a folly, locally known as The Cottage, overlooking the tourist entrance to Marble Arch. This was used for shooting parties in Victorian times and is well worth a visit.

Access
Top (South Entrance)
From Florencecourt village junction take the Blacklion Road for 1.7 miles.Turn left at brown sign for Marble Arch Caves. Follow signs for Caves. Park at show caves. Walk to back of building. Follow the path into the Glen. The path runs through the Glen to the lower North Entrance.
Lower (North Entrance)
Situated on the main Florencecourt to Blacklion Road 3.3 miles from Florencecourt.
Cladagh Glen Nature Reserve is currently closed to the public, works to reinstate safe public access to the site are currently underway; we apologise for the inconvenience caused and it is hoped that these works will soon be complete. Please respect the safety fencing and signage in place restricting access to the site.
Facilities
Attraction Facilities
Open Evenings
Open Mondays
Open Sundays
Catering
Parking & Transport
Provider Preferences
Free (parking charges may apply)