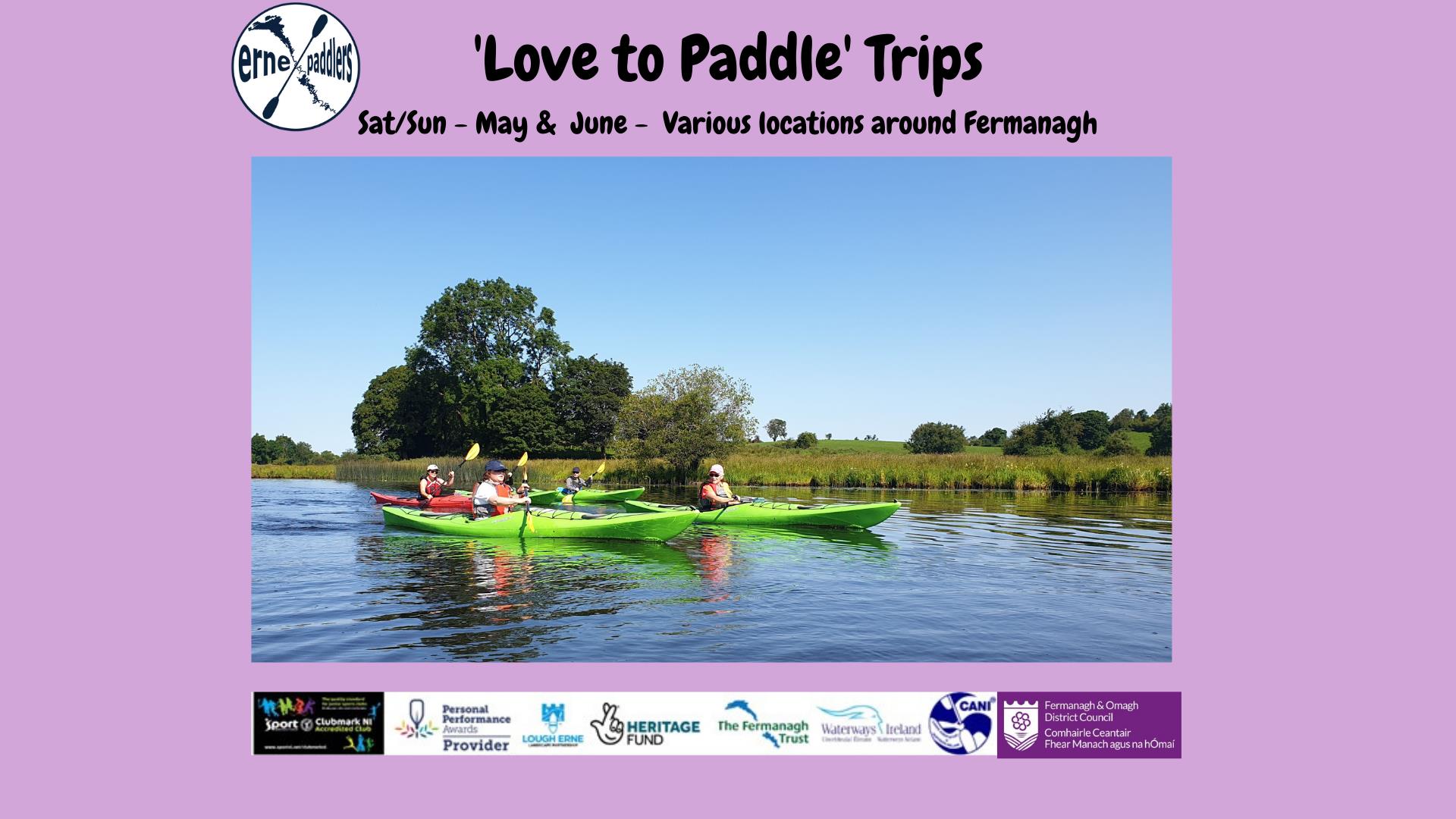 About
Book online here: https://bit.ly/LTP28May

These 'Love to Paddle' trips are enjoyable, social paddles for those that like to get their exercise on the water, while taking in the great views from our blueways.

This is the first trip of the summer, more dates to follow. Run by our experienced, qualified and friendly coaches, these will be guided trips with coaching as needed, including advice on efficient paddling, trip planning and navigation, paddling for fitness, etc.

We recommend that participants should be at least 12 years old and be able to paddle at an easy to moderate rate for the duration of the trip. Love to Paddle Trips are usually around 8 to 10 km with 2 to 2.5 hours of paddling time.

We will provide all paddlesport equipment you need; kayak or canoe, spraydecks, paddles, buoyancy aids and helmets. The only thing we can't supply is your personal paddling wear.

For these trips, normal outdoor clothes suitable for the prevailing weather (tracksuit, fleeces or walking clothes and waterproofs, including shoes to get wet) are perfectly fine. If you have a wetsuit, that's great, please feel free to wear it, but it is not necessary for a one hour lesson at this time of year.

A full set of dry clothes including shoes and a towel are essential to bring for your comfort and safety.

Facilities

Please plan not to have to use public toilets and arrive ready to go paddling or change at your car as many paddlers do. A changing towel and a mat to stand on make this a much easier and more discrete process, or a large bin liner to sit on on the way home in your paddling kit works well too.

General Information

All our courses are open to all. You do not need to be a member to book.

We aim to be as inclusive as possible. If you have any additional needs please contact us to see how we can accommodate you.

Note: You need to be logged in to add yourself to the "waitlist"


Prices

For Adults (18+) who have never been an EP member before: £22

For Juniors (U18) who have never been an EP member before: £15


Member rates:

For Adults (18+) with current club membership: £15 pp

For Juniors (U18) with Current club Membership: £8 pp

Full Club Programme

All our Events are listed here: Events

A guide to how to find and book the right course for you can be found on our How to Find a Course page.

Covid-19 Statement:

Erne Paddlers has followed all the recommended procedures, and more, to properly mitigate the risk of covid-19 transmission. We have conducted a review of our operating procedures and added covid-19 considerations to our risk assessments, conducted staff training and will provide all the relevant information to our participants and members as they book onto our courses.

Club sport is now allowed with mitigating procedures in place under the NI Public Health regulations and guidelines. From the CANI Guidelines, "During active participation of sport, you do not have to continuously maintain social distancing", so paddlesport can be conducted as normal and for the most part social distance occurs naturally.

Latest Covid-19 public health advice: "It is strongly recommended that, given the high transmission rates of the Omicron variant, everyone attending a sporting event should take a Lateral Flow Test prior to attending."

We ask that all participants please:

Take a Lateral Flow Test before attending a club event or coached pool session.
bring their own hand gel and wash their hands before joining the session, again after leaving

follow the instructors' guidance on social distancing.

Avoid car sharing outside your household, or put mitigating procedures in place (sit as far apart as you can, wear masks, keep windows open, keep journey times short and wash hands).

Avoid congregating before and after the event

Do not participate in club activities if you are currently shielding, displaying covid19 symptoms or have been in close contact with anyone displaying symptoms in the last 14 days.