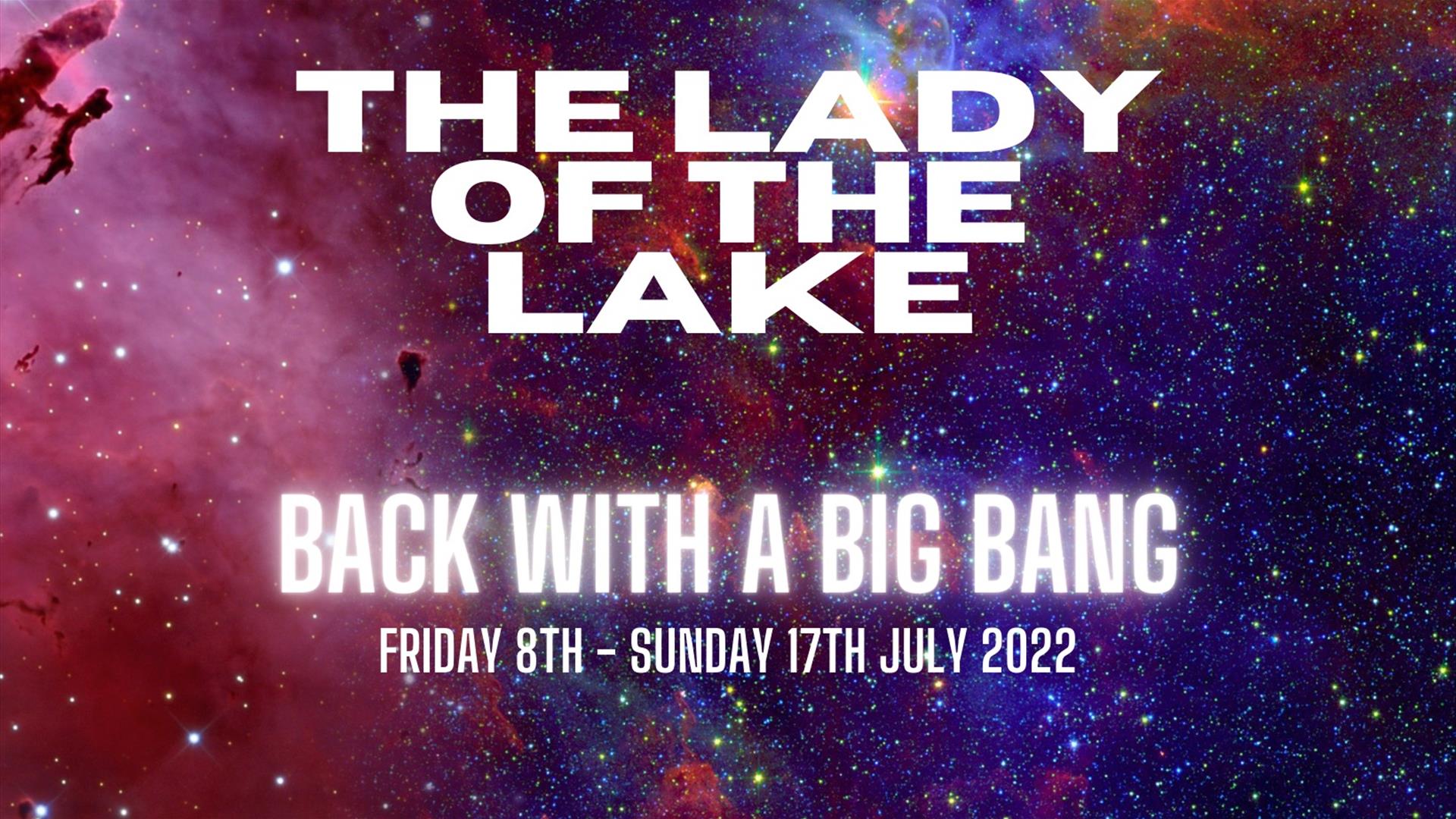 About
The Lady of the Lake Festival is a Summer Event which takes place every July in Irvinestown, providing 11 days of Fun for All! Folklore has it that the legendary lady walked amongst the mists & islands of Lough Erne bringing a sign of good times ahead!
Friday 8th July
10.30am Pool Competition in Bawnacre Centre for Primary School boys.
Free Admission
1.30 pm BBC Radio Ulster Live Broadcast by Hugo Duncan at the Delany Room
Car Park featuring Special Guest Appearances from the Irish Country Showband Scene.
7.30pm The Opening Ceremony will be performed by The Porter Bellies
7.30pm Live Music on Main Street by The Porter Bellies
8.00pm Official Opening of The 43rd Lady of the Lake Festival.
Cross Community Marching Bands
Girls & Boys Brigade and Scouts.
Street Entertainment
Sponsored by Petal Postforming Ltd
8.30pm Arrival of 2019 Lady the Lake – Nikita Ward
"The Dance of the Islands" based upon the mythical legend Lady of the Lake by
8.45pm Arrival of 2019 Ladies in Waiting accompanied by
Unveiling of the 2022 Lady of the Lake
What form of transport will she use this year?
Ongoing Main Street Events, Fun and Games
10.00pm Music in Mahon's Hotel by Country Features
10.00pm Music in Molly's
Saturday 9th July
11.00 am Summer Craft Fair in Delany Room in aid of Bright Eyes Animal Sanctuary
Retail Therapy provided by local craft and agri-food businesses
Vendor & General Enquiries: lovecraftsni@gmail.com
12midday Clay Pigeon Shoot at Lettermoney organized by Robert Kinnear.
2.30pm Irvinestown Pet Show at Bawnacre Centre Car Park
sponsored by Three Valley Vets.
3.00pm The Festival Bonny Baby Competition at Bawnacre Centre
sponsored by Gordon's Chemist.
7.00pm Necarne Run, Walk & Stroll for Fun
in Aid of Fermanagh Multiple Sclerosis Society
Registration @ Necarne from 5pm-6pm Adm £5.00
Sponsored by Mahon's Hotel
9.00pm Festival Pool Tournament in Sissy McGinty's
Feature Prize for Best Dressed Player
10.00pm Music in Mahon's Hotel by James Peake
10.00pm Music in Molly's by
Sunday 10th July
10.00am Game Fishing Competition - Boats leave Castle Archdale & Muckross
First Prize £150 Entry £5.00 Adults £3.00 Children
2.30pm The Lady of the Lake Donkey Derby Meeting
held at Castle Irvine Estate, Necarne , in front of the Castle
Followed by
A Family Fun Afternoon sponsored By Sydare Eggs
Egg & Spoon Race, Mammy & Daddy Race, Children's Race, Piggy Back Race , Three Legged Race & Sack Race
Admission £3.00 ~ All Accompanied Children, Free Admission
(All People taking part in the Donkey Derby do so at their own risk)
3.00pm A Walking Tour of the richly historic site of Castle Archdale.
This is a "Walk and Talk" exercise suitable for all ages.
A Guide from the Northern Ireland Environment Agency will bring alive the importance of Castle Archdale as a World War II RAF Flying Boat Base for Catalina's and Sunderland's which patrolled the North Atlantic Ocean.
A great opportunity to appreciate local history.
Walk starts at the Visitor Centre
6.00pm Prize-giving for the Fishing Competition at Castle Archdale Marina.
Live Music by Malcolm Coulter ~ weather permitting.
6.30pm Cross Community and Inter-Denomination Service with
The Community Choir on the historic White Island including celebration by local Church/Faith Leaders of over 400 years history of Irvinestown.
Everyone Welcome,
Departure from New Castle Archdale Marina at 6.30pm on the Luxurious Lady of the Lake Cruiser
8.00pm Music in Mahon's Hotel – Hand Me Downs
8.00pm Music in Sissy McGinty's
8.00pm Music in Molly's by
Monday 11th July
10:30am Sports Day with Team Games, Old Time Games and lots of fun! All Primary School children are welcome! From 10.30a.m. to 12noon.
Cost: £1. (Please phone ARC on 028 686 28741 to book as places will be limited.)
11.00am Soccer Skills Competition on small Bawnacre 3G Pitch for primary school boys.
11-12.30pm Treasure Hunt at the Arc Healthy Living Centre
1-12.30pm Rugby Skills at Arc Healthy Living Centre
2-2.30pm Football at the Arc Healthy Living Centre
2-2.30pm Arts & Crafts at Arc Healthy Living Centre
7.00pm Tiny Tots Disco in Main Hall Bawnacre Centre for pre-school & Primary School Children
7.00pm Lady Of Lake Treasure Hunt, Irvinestown, Ballinamallard, and surrounding areas. Assemble in Link Road Car-park
Tea after in The Methodist Hall and prize giving.
sponsored By Belleek Living
9.00pm Old Time Singing and Storytelling with James Hugh and Friends Mahon's Hotel
Tuesday 12th July
10.00a.m Parade By Drumharvey Pipe Band Main Street
1.00p.m Funfair and Games on Main Street
10.30pm Music in Mahon's Hotel by Paul Wright
Wednesday 13th July
10.30am Treasure Hunt at the ARC. Treasure Hunt on foot for all Primary School children. Follow the clues for a fun filled morning. Treasure to be found!
Cost £1.
(Please phone ARC on 028 686 28741 to book as places will be limited)
11-12.30pm Animal Masks at the Ark Healthy Living Centre
12.00pm Traditional Fair Day at Castle Irvine Estate, Necarne -
Ulster American Folk Park all day demonstrations
Folk Park Actor/Guides in character Street Performances
Horse drawn Transport
Carriage Driving
Stalls and Crafts
Local Musicians and Bands
Music by Glenside Country
Sheep Shearing 2.00p.m
Traditional Hiring Fair
Three Wheel Bicycle Race with Local Celebrities
Marionette String Puppet Show (Two Shows) 1.00p.m and 3.00p.m
Presentation Of Prizes Irvinestown's Best Gardens 12.30p.m
Auction Of Horses Donkeys 4.30p.m
Ruck Of hay 2.00p.m
World Sheep Dung Spitting Contest
Best Dressed Lady & Man in Vintage Wear
Thresher Display 3.00p.m
Poitin Making
Pedicure for horses & Donkeys
Parade Vintage Tractors (N W Vintage Club ) 12.00p.m & 5.00p.m
Marie Phelan Irish Dancers 3.15p.m
Erne Highland Dancers 3.00p.m
Yoga Session at 4pm with Ann Monaghan £7.00 adults, £4.00 under 18's. Wear your bloomers. Contact Ann: 07391945365
Special Lady Of The Lake Irish Dance
All Ireland Potato Peeling Competition
Donkey Rides
2.00pm Festival Arts and Crafts for all primary school children.
Cost £1.
2-3.30pm Arts & Crafts at the Ark Healthy Living Centre
4.00pm - Registration Commences at Bawnacre Centre (only) for 10K/5K
Water Sponsored by Happy Cones
6.45pm Registration Closes for 10K/5K
7.00 pm 10K/5K starts from Bawnacre Centre
10k - Bawnacre, Castle Street, Church Street, Lisnarick Road, Ardlougher, Liscreevin Road, Drumshane, Lisnarick, Drumadravey, Irvinestown Bawnacre Finish.
5k route - Bawnacre Turn @ Knockroe Bawnacre Finish
7.00pm Irvinestown Community Football Soccer Challenge in Bawnacre Centre. Four top soccer teams from Irvinestown compete. Proceeds in aid of Marie Curie.
8.00pm Freedom 2 Paint @Mahon's Hotel ~ Join us for a Fun Night of Painting – Zero Experience Necessary. Paint, All Materials & the First Drink provided ~ £25. (over 18's only)
9.00 pm Presentation Ceremony in Bawnacre Centre for 10K/5K Run.
9.00pm Chernobyl Children Appeal Charity Dance in Mahon's Hotel. Dancing 9.00pm- late.
Tickets £10.00 or pay at the door.
Artists appearing:
Night Not To Be Missed! Hugo Duncan, Boxcar Brian, Vincy Walmsley Florence Given, Georgia Mc Cusker, The Singing Diggerman, Joe Mahon & Paddy McCann ~ Backing Band Malcolm Coalter & Eugene Cunningham
10.00p.m. Music in Molly's by
Thursday 14th July
11.00am Fancy Dress Dog Walk at Necarne. Start at Necarne Car Park
£3.00 fee, Prize for Best Dressed Dog ~ In aid of Bright Eyes Animal Sanctuary , Huskey Salvation
1.00pm Dog Show in front of Necarne Castle
2.00pm Ball Drop from Ski Jump £1.00 per ball
2.00pm Badminton competitions in Bawnacre Centre for boys and girls under 14 years. Admission free.
3.30pm Badminton competitions in Bawnacre Centre for boys and girls under16 years. Admission free.
3.30pm Table Tennis competitions in Bawnacre Centre single for boys and girls under 14 years and under 16 years. Admission free.
3.00pm Senior Citizens Party Delany Room at Mahon's Hotel
Music & the Craic with "Malcolm & Country Beat with Georgia McCusker"
Refreshments served
Everyone Welcome.
Contact Mahon's Hotel 02868621656 for your free ticket
4.00pm Register your Kayak for Race at the Marina. Last Entries 4.30 p.m.
6.00pm Kayak Race in Marina. Kayaks Supplied By Jonathan Bradshaw - £10.00 entry.
1st prize £50.00
2nd prize £25.00
(For more details contact 02868621675)
6.00pm Raft Race sponsored by Sam Timmins Garden Landscapes NI
Register your Raft at Mahon's Hotel: 02868621656 before 16th July. Adm: £10.00. Winner Takes All!
7.00 pm World Cup Style Outdoor Soccer Competition on Bawnacre 3G Pitch for boys who attended Primary School in June 2022.
Enter your own team of 6 via Bawnacre Reception (tel 028 686 21177) by 1pm today. £5.00 per team.
7.00pm Lady of the Lake Annual Fancy Dress Assemble at the Link Road, Irvinestown.
Judging for various prizes including individuals, groups & ages @7.30pm.
Judging Panel made up by Irvinestown's most Untalented & Unglamorous Celebrities
Supported by Supervalu Supermarket & Centra Main Street
7.30p.m. Live Music on the street with The Senators
8.00pm Annual Fancy Dress Parade - leaving from the Link Road.
Street Entertainment – Mighty Mascots , Fire Engine Display Cutting up a car
8.00pm Rockstar Festival Bingo on Zoom. Big cash prizes. See Rockstars on line Community Bingo page on Facebook for the link
9.30pm Table Quiz in Mahon's Hotel. Quizmaster Geoff Heaver £5.00 per person
10.00pm Music in Molly's by
9.00p.m Music In Mahon's Hotel By
Friday 15th July
2.00pm Annual Bawnacre Summer Sports Day on the NEW 3G Pitch. Competitions and novelty events for boys and girls of all ages. Admission free.
7.00p.m Lady of the Lake Festival Friendly @Bawnacre 3G Pitch
sponsored by Mahon's Hotel
Ginger's Select v Sands Utd Ekn
all proceeds to Marie Curie
7.30pm Music in the Main Street by Hard to Beat
7.30p.m Annual Vintage Vehicle Parade
Cars, Trucks, Tractors & Bicycles. Assemble Bawnacre Car Park. Joe add in full route for the vintage vehicle parade
9.00p.m Fire Dancing with Mummers Main Street
10.30p.m. Music on Street by Vincy Walmsley
10.00p.m Music in Mahon's Hotel by Hard to Beat
10.00p.m. Music in Molly's by
10.30p.m Festival of Lights – Ancient Traditions meet Modernity
Parade of trucks & around the town.
Prizes for Best lit up trucks Local and Outside Fermanagh/Tyrone
Lead by a Torch Light Parade from Irvinestown Community Mummers
Samba Band.
A truly tremendous occasion Every Year!
Saturday 16th July
8.30a.m Fun Cycle Race around Lough Erne in conjunction with Irvinestown Shamwheelers
Sign On and Registration on Mill Street @Delany Suite
11.00a.m Arrival of Trucks for the, Annual Lady of the Lake Truck Convoy in aid of Marie Curie
12.00p.m. Craft & Trade Stalls in Truck Car Park in Aid of Marie Curie
1.00 p.m St Mary Ward Band playing on Main Street
2.00 p.m The World's Hole Digging Championship, See who can dig the biggest Hole in a half hour, and try and beat our Last year's champion Hole Digger. Cormac Slevin
Hole Digging takes place in Field in Middle of Truck Park.
£175.00 in Prizes 1st £100.00 2nd £50.00, 3rd £25.00 plus an engraved spade for the Winner
4.30 pm OUTDOOR THEATRE on the big 3G Pitch at the Bawnacre Centre.
David Walliams 'AWFUL AUNTIE' presented by Heartbreak Productions, Bring the family, picnic, a blanket, or low back chair and dress appropriately for the weather but relax and enjoy watching a fabulous, top quality open-air show.
9.00p.m Music in Sissy's by s
10.00p.m Music in Mahon's Hotel by Gary Fitzpatrick
10.00p.m Truckers Dance - Music in Delany Suite Barry Doyle Band & Boxcar Brian (£15.00) Per Ticket @ Mahon's Hotel Reception or pay @ Door.
10.00p.m. Music in Molly's by
Sunday 17th July
Please Try to Use Car Parks and not Block the Main Street
Car Parking Available on the Link Road & Lisnarick Road at St.Mary's School &
opposite the Sacred Heart Church
10.00 a.m Lady Of Lake Grasstrack Motor Cycle Racing organised by Fermanagh Motorcycle Club at Castle Irvine Estate Necarne
10.00a.m Start of Bicycle Race 60 Miles & 25 mile Cycle & 35 mile
Route given out on Day
Helmets Must Be Worn ~ £10.00 per person
2.00p.m Presentation and Prizes of the Trucks Memorial Trophies.
2.30p.m Trucks leave Bawnacre Centre Car Park on Convoy around Fermanagh
Ex Irvinestown 2.30pm - Led by 400 Husky Dogs
Lisnarick, 2.45 p.m.
Ederney, 3.00p.m
Kesh, 3.30p.m
Enniskillen, 4.00p.m
Ballinamallard. 4.20 p.m.
3.00p.m Music on Main Street with Barry Doyle, Joe Moore, Boxcar Brian & The Senators
Street Performers/ Entertainment.
4.45p.m Arrival back in Irvinestown of Trucks.
5.00p.m Music in Mahon's Hotel by Barry Doyle & Friends
6.00p.m BAWNACRE DRIVEWAY & CAR PARK CLOSED UNTIL 10A.M MONDAY.
10.00p.m. Music in Molly's
10.00p.m Music in Sissy McGinty's
10.30p.m Music in Delany Suite by the Tumbling Paddys.
Adm £10 .00 before 11.00p.m / £12.00 after 11.00p.m
Ongoing Events throughout Festival
Photography Competition:
All photos to be shared or tagged to Lady of the Lake Facebook Page
Drone Video Competition:
All videos to be shared or tagged to Lady of the Lake Facebook Page
Day Boat Hire Available from:
Castle Archdale - 02868622200
Manor House Marina – 02868628100
Lady of the Lake Cruiser:
Daily Trips Available – 02868622200
Spot the Stranger:
In all local shops. Available from Mahon's Hotel and ARC Center Sally's Wood, Bawnacre Centre
Watersports: By Castle Archdale Boat Hire, Contact: 02868621675
Celtic Garden and Famine Garden:
Open every Day Free Of Charge
White Island Ferry: Departs Castle Archdale, Contact: 02868621675
Devenish Ferry: Departs at Trory, Contact: 02868621675
WAYS TO GET HOME
Don Cabs 07745163958