Steeped in romance, where world renowned writers Wilde and Beckett were educated and drew inspiration for their poetry and stories, the Fermanagh Lakelands are ideal for an amazing romantic couples break…
With beautiful accommodation around every bend you will be spoilt for choice when it comes to choosing a special place to stay.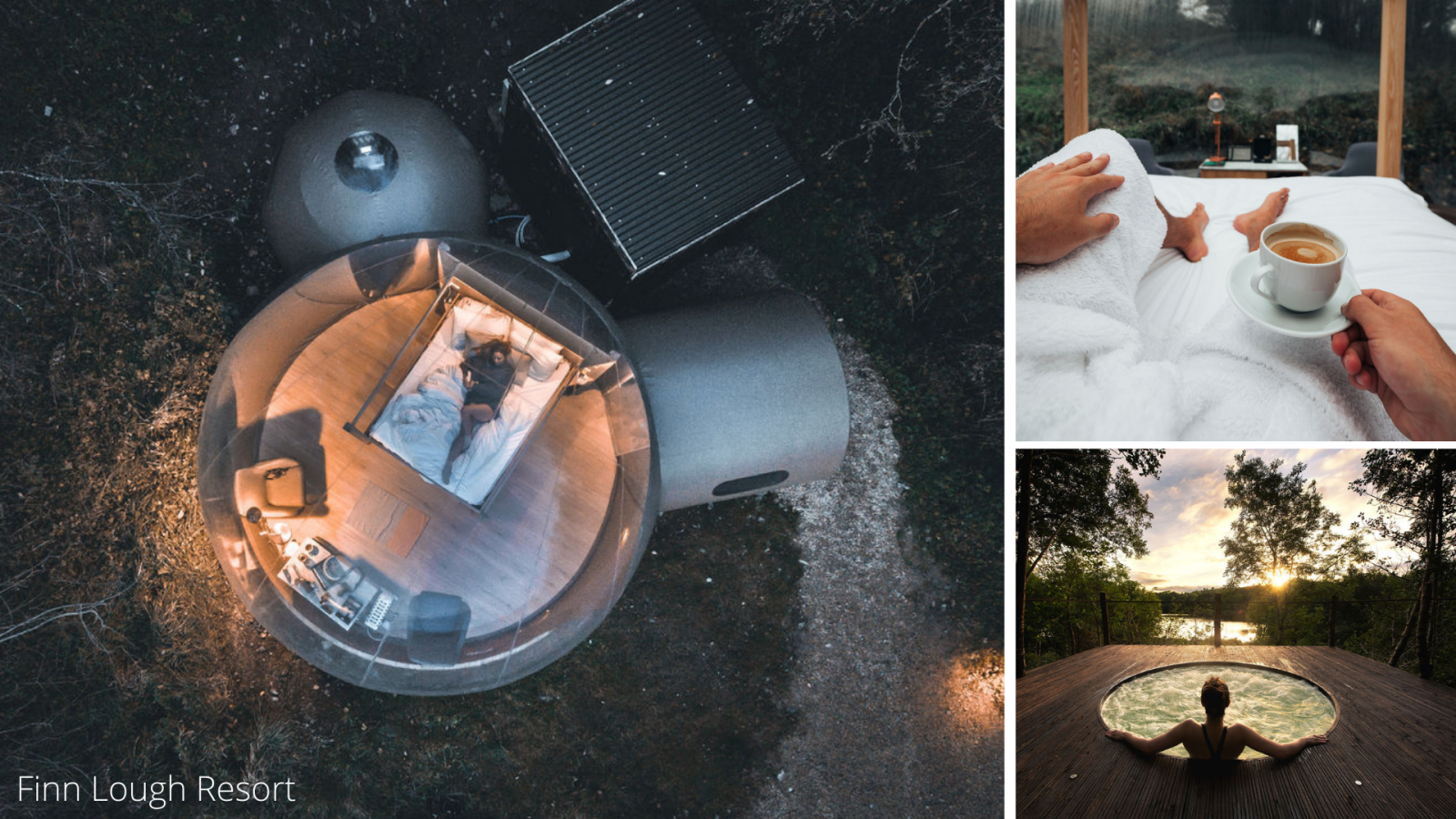 When it comes to something totally different and extremely romantic it's hard to see past the Bubble Domes at Finn Lough Resort, taking sleeping under the stars to a completely new level, or choose one of their stunning Suites, enjoy the most wonderful spa and dining experiences to really top it off. What an amazing Valentine's gift this would be for the one you love.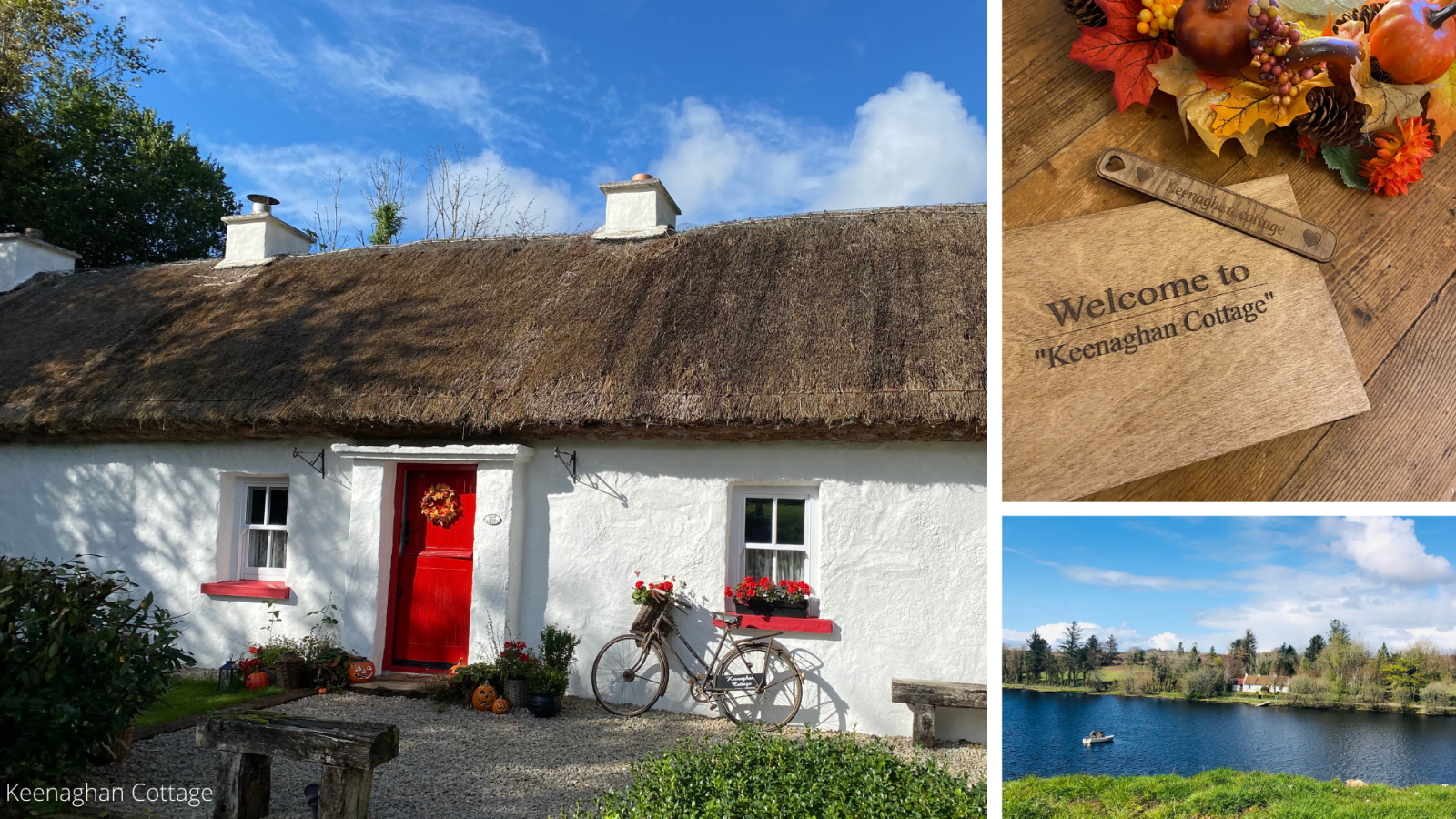 If a little cottage hideaway is more up your street then Keenaghan Cottage is the place for you, located on the shores of Keenaghan Lough, an exceptional example of a Traditional 1800's Irish Thatched Cottage combined with 5* awarded luxury. Seemingly plucked straight from a fairy-tale, this idyllic thatched cottage will be found down a short private country lane, free from the hustle and bustle of modern life, offering unrivalled peace and tranquillity - the perfect secret escape to relax, unwind and recharge.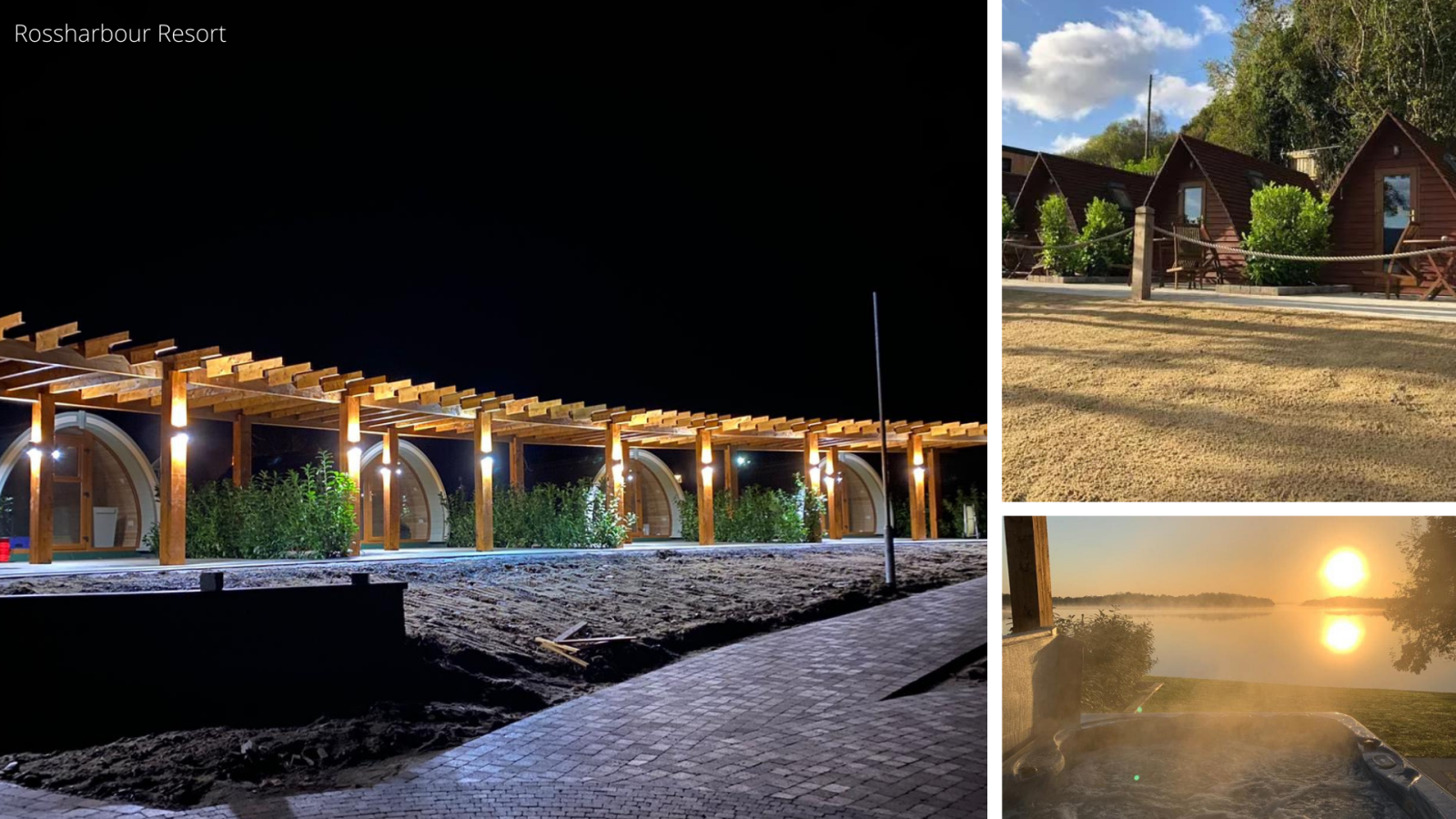 Who doesn't love a private hot tub and a lake view, if you're craving this kind of luxury then check out Ross Harbour Resort, romantically nestled on the shores of Lough Erne, with it's own bar and restaurant, this stunning resort will tick all the boxes for a romantic Valentine's break.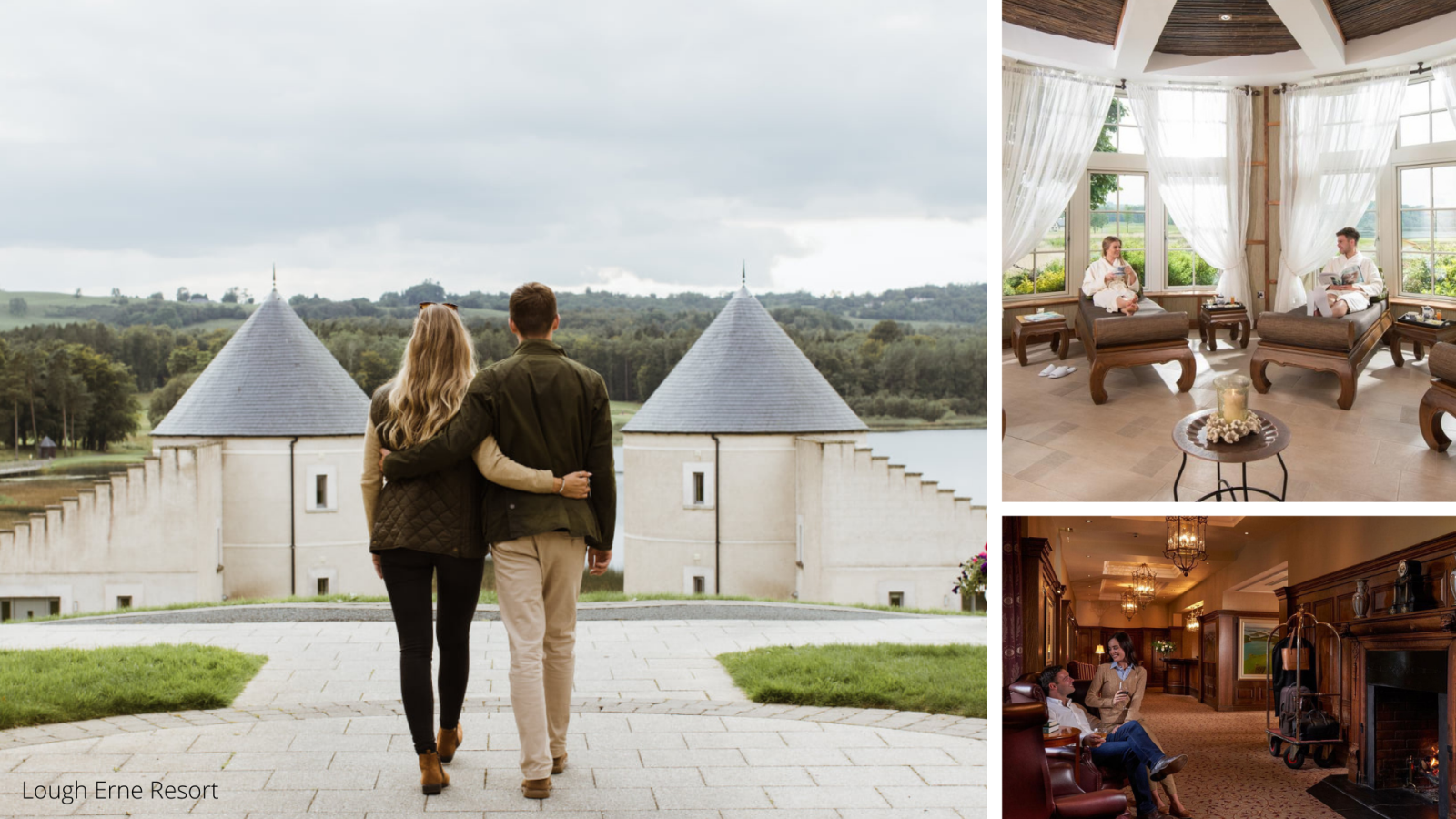 For a break that oozes pure luxury Lough Erne Resort has to be a top choice, relax in the award winning Thai Spa, take in a round of golf at one of their championship Golf Courses and finish off with a mouth watering meal from acclaimed chef Noel McMeel.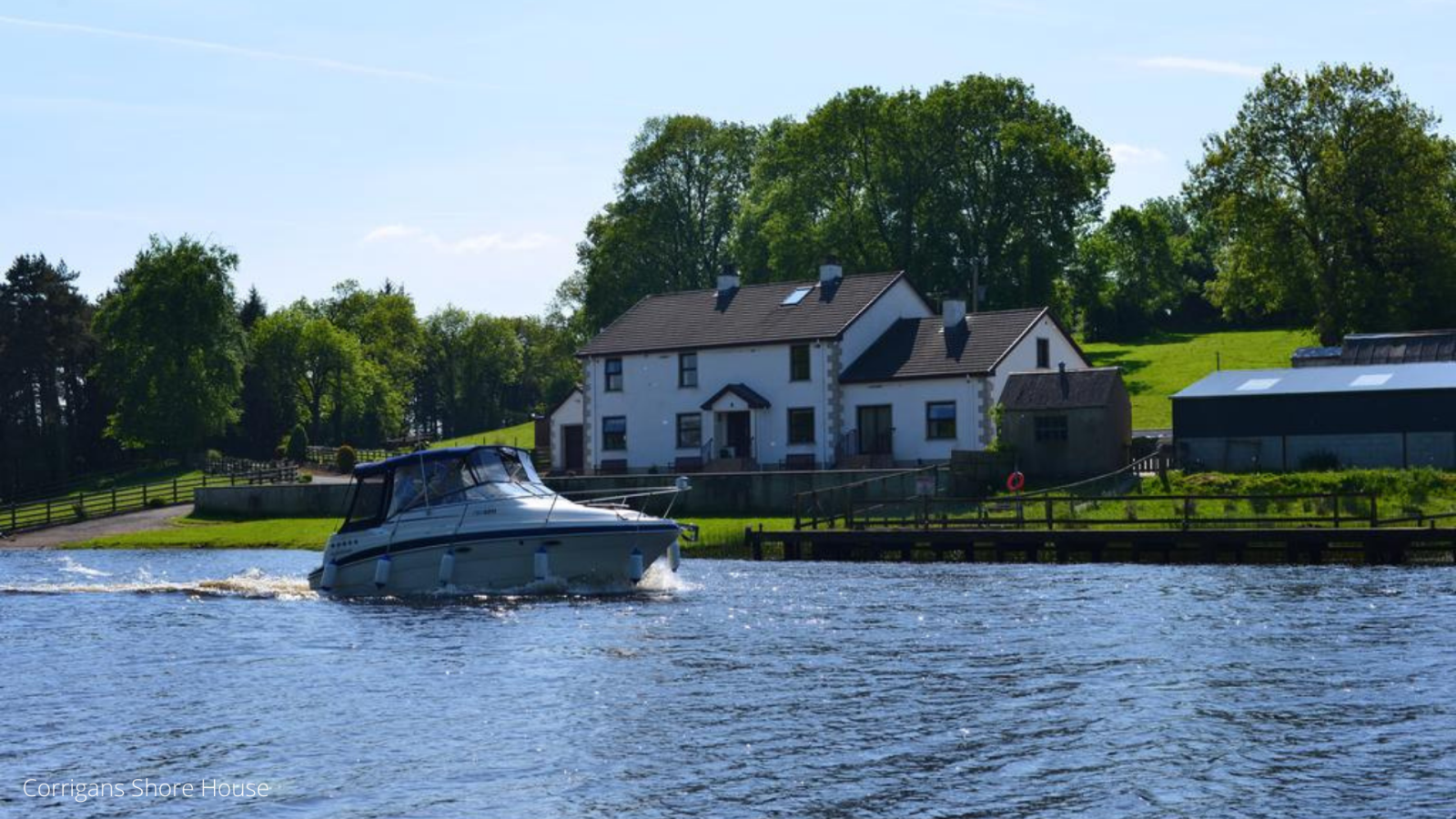 Perhaps home comforts are more up your street, then Corrigans Shore House is the perfect option, ideally located on the shores of Lough Erne with the most tranquil views, this 4 star country style location is an ideal couples retreat.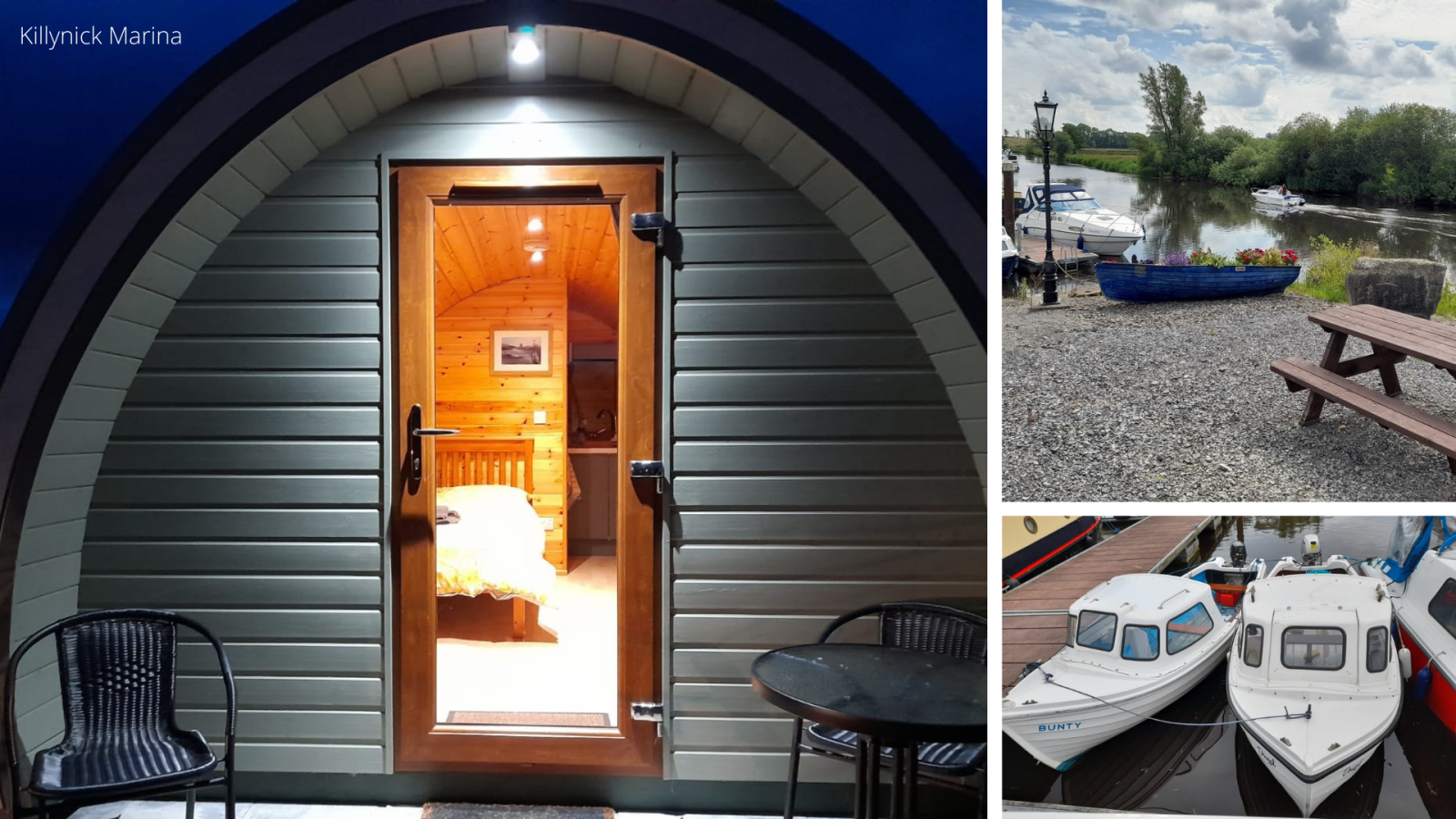 For a lovely unique lakeside break the pods at Killynick Marina are perfection, fish from the jetty or hire a day boat and pack up a picnic for a very special day on the lakes with that someone special.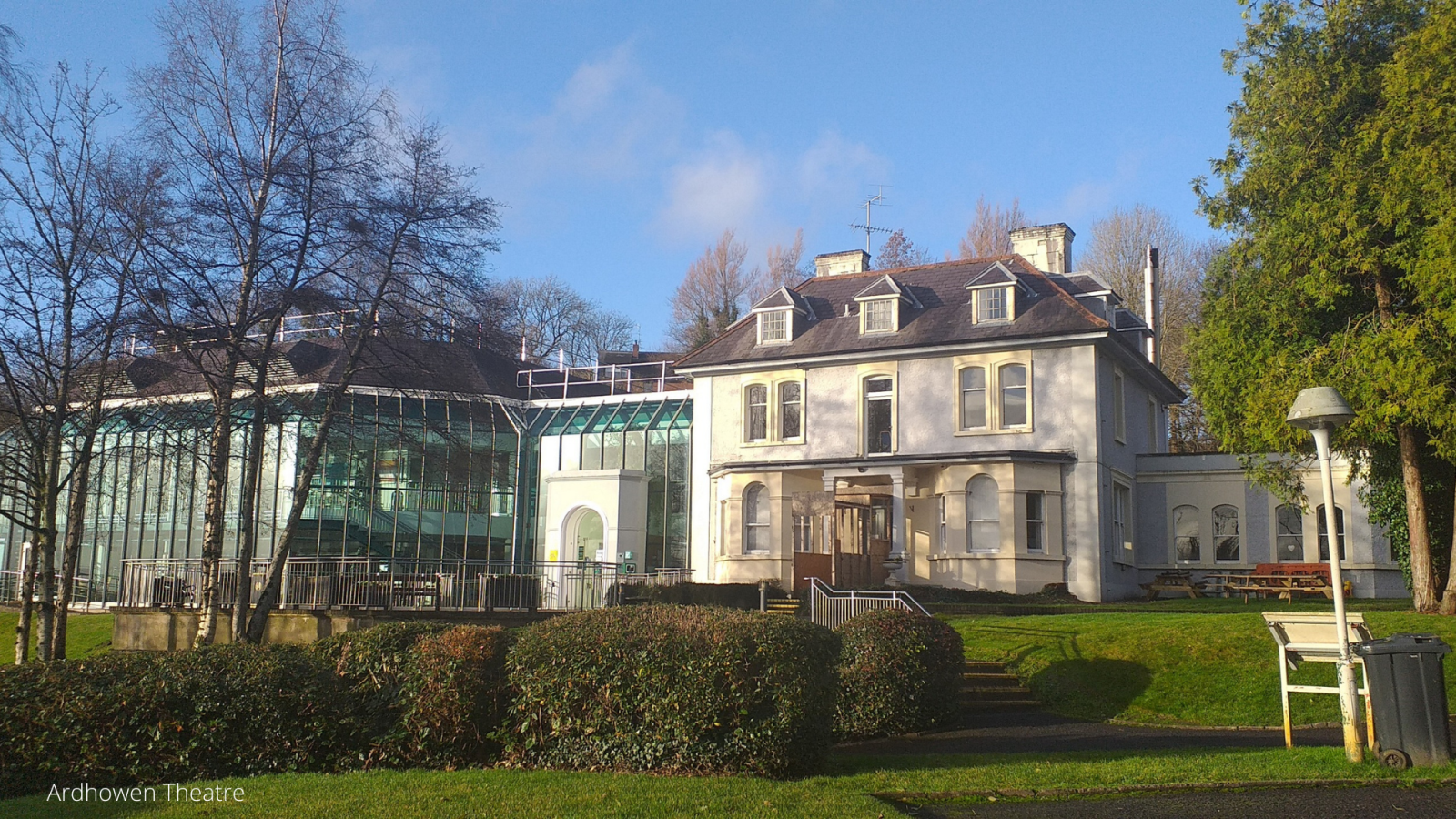 What romantic break is complete without an activity to enjoy together, check out some of our top picks for couples…
Struggling to think of something different to do for Valentine's Day, why not take in a show at the Ardhowen Theatre, beautifully situated beside the lake this venue is ideal for a night out together.
Electric Escape at Corralea, take a private tour and enjoy a unique guided electric bike experience, a really fun couples Valentine's idea.
Explore the untapped wilderness of West Fermanagh with your guide using top of the range Electric Mountain bikes. Cruise across old bog roads, forest tracks and small back roads with little or no traffic, seeing the parts of Fermanagh most visitors never see.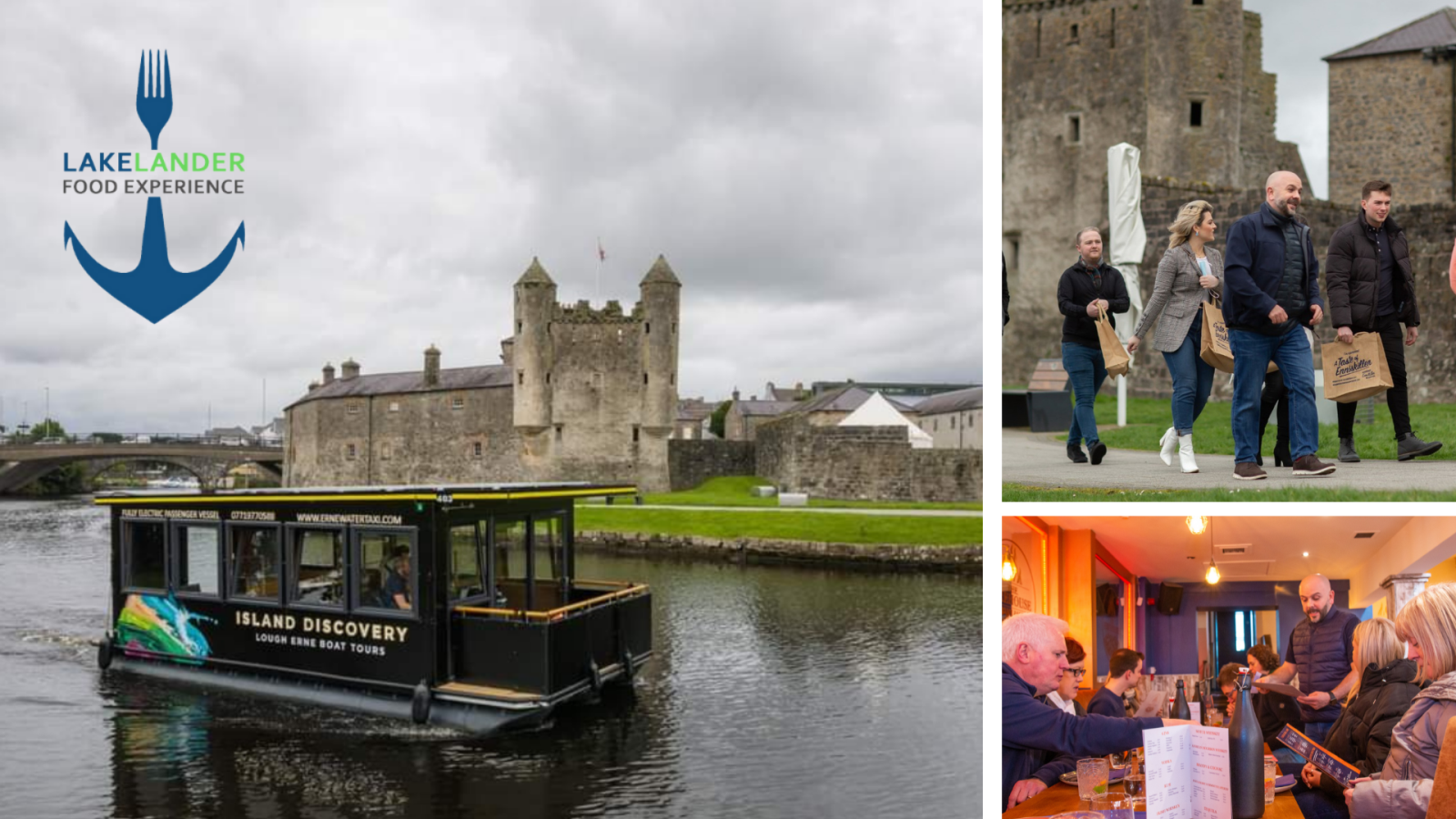 Step aboard Island Discovery, an all new electric passenger vessel, where Skipper Barry will share with you the history, beauty and significance of the Erne Waterway one bite at a time, whilst Mark, the face of food in Enniskillen, will treat you to a food & drink tasting menu produced right here in Fermanagh Lakelands.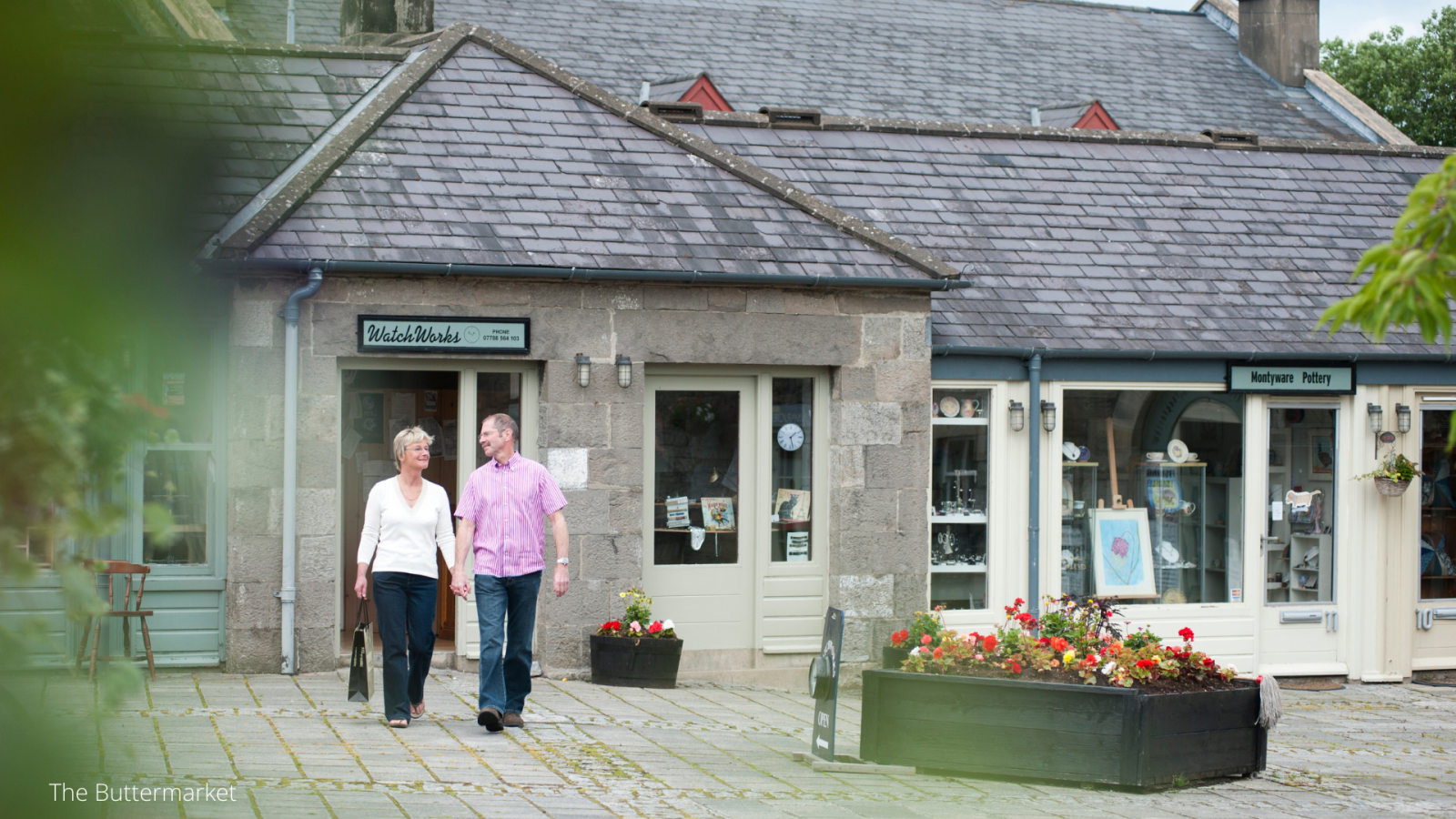 The Buttermarket Craft and Design Courtyard comprises of nineteen art and craft units and a coffee shop, housed in the restored early 19th century dairy market. The Buttermarket's unique position in the heart of Enniskillen makes it the central focus for the thriving craft industry in Fermanagh.
The buildings have been beautifully renovated and house such diverse crafts as pottery, ceramics, handmade jewellery, textiles, picture framing and original art.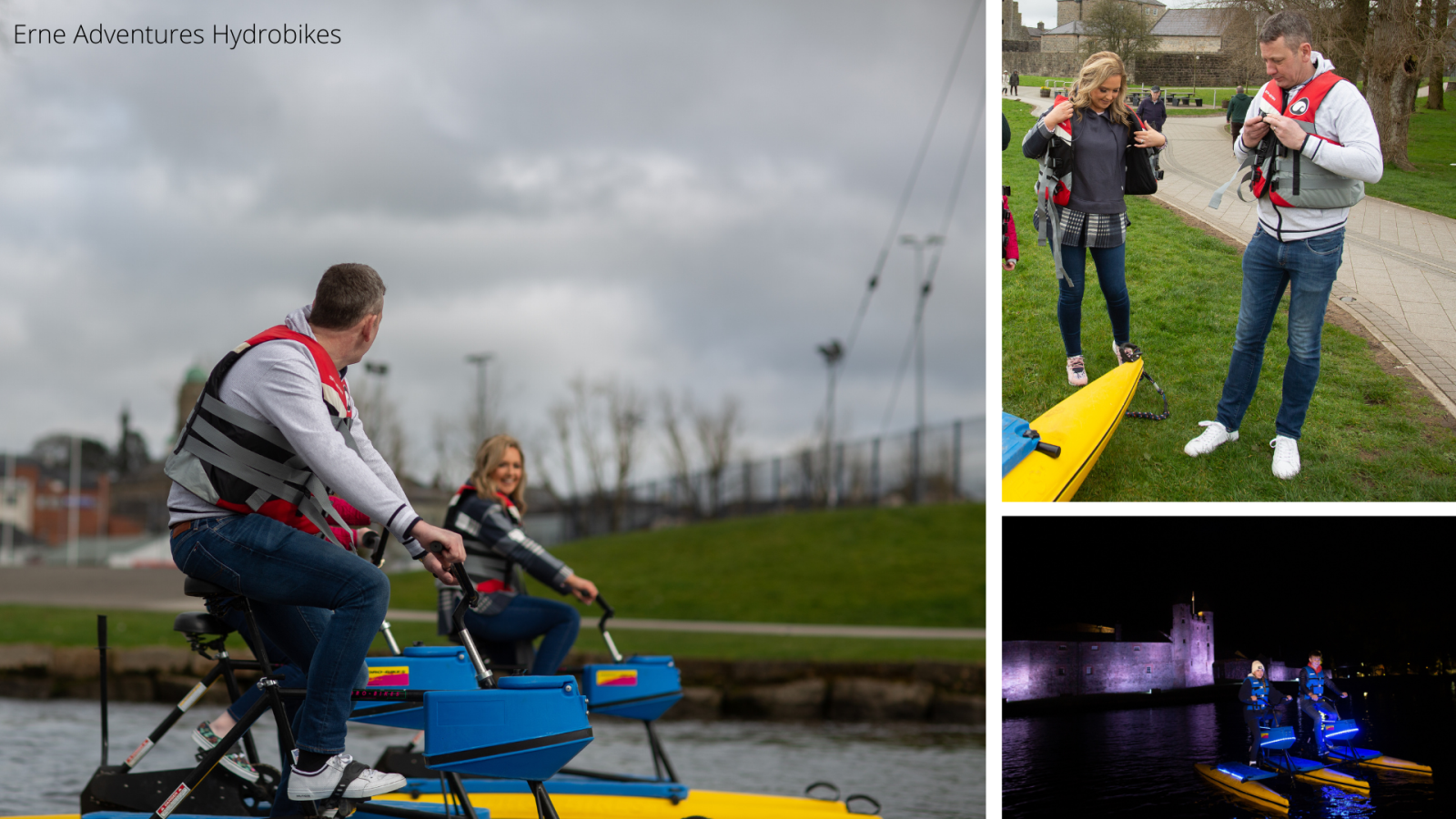 Hop on an Erne Adventures Hydrobike, take cycling off the road and onto the waters. Explore Ireland's only island town through this unique water sports experience.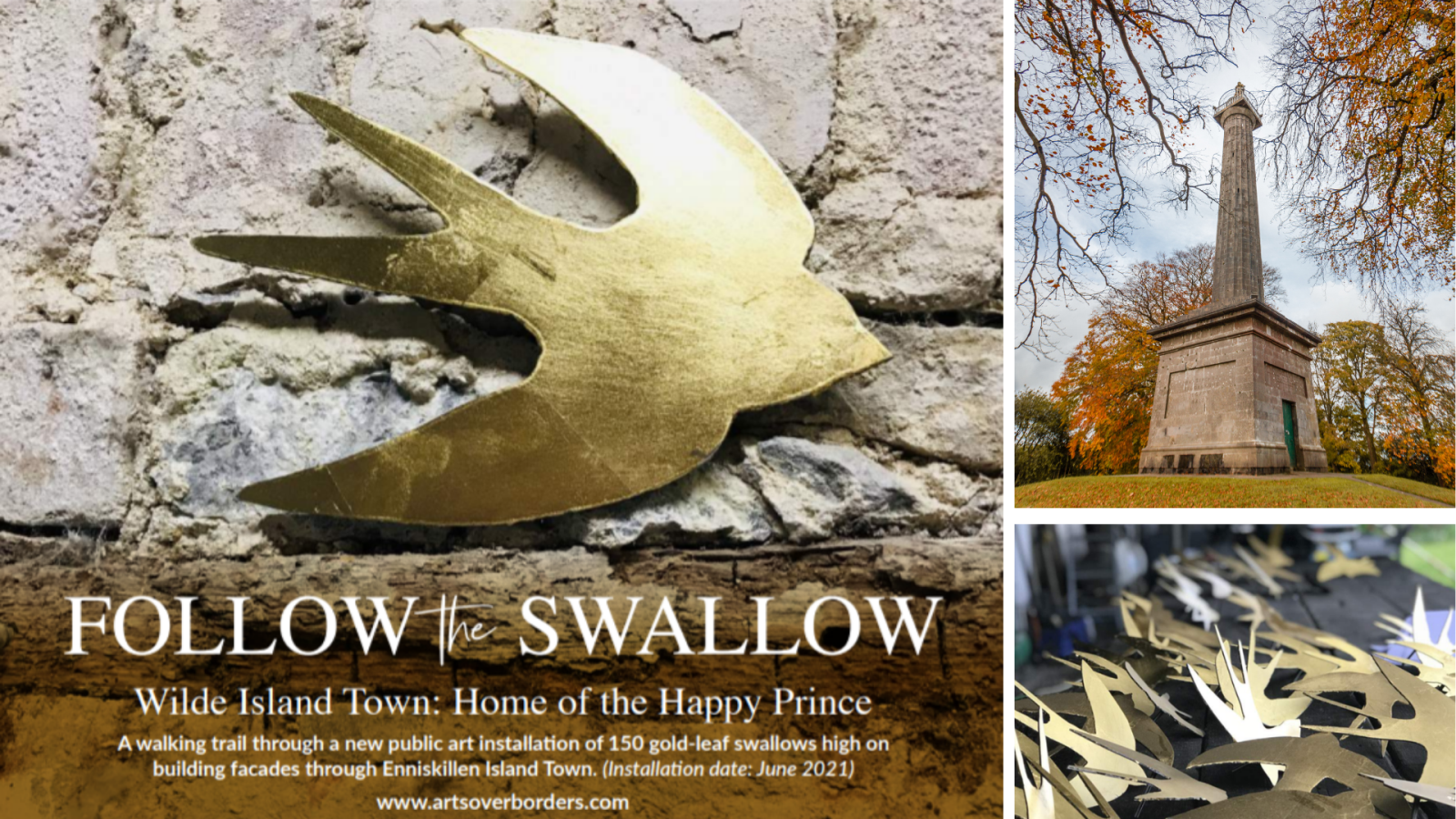 Follow The Swallow – Take a romantic walk around Enniskillen,
FOLLOW THE SWALLOW JOURNEY THROUGH WILDE ISLAND TOWN, HOME OF THE HAPPY PRINCE (Allow 50-60 mins) look up and Follow The Swallow as you stroll through the island town's main street on the jewellers, butchers, solicitors, dentists, opticians, clothes shops, shoe shop, pubs and cafes. The full walking tour of 'Follow the Swallow' begins at War Memorial, Belmore Street, at the bottom of Forthill Park and the Happy Prince statue, check out Arts over borders for more info.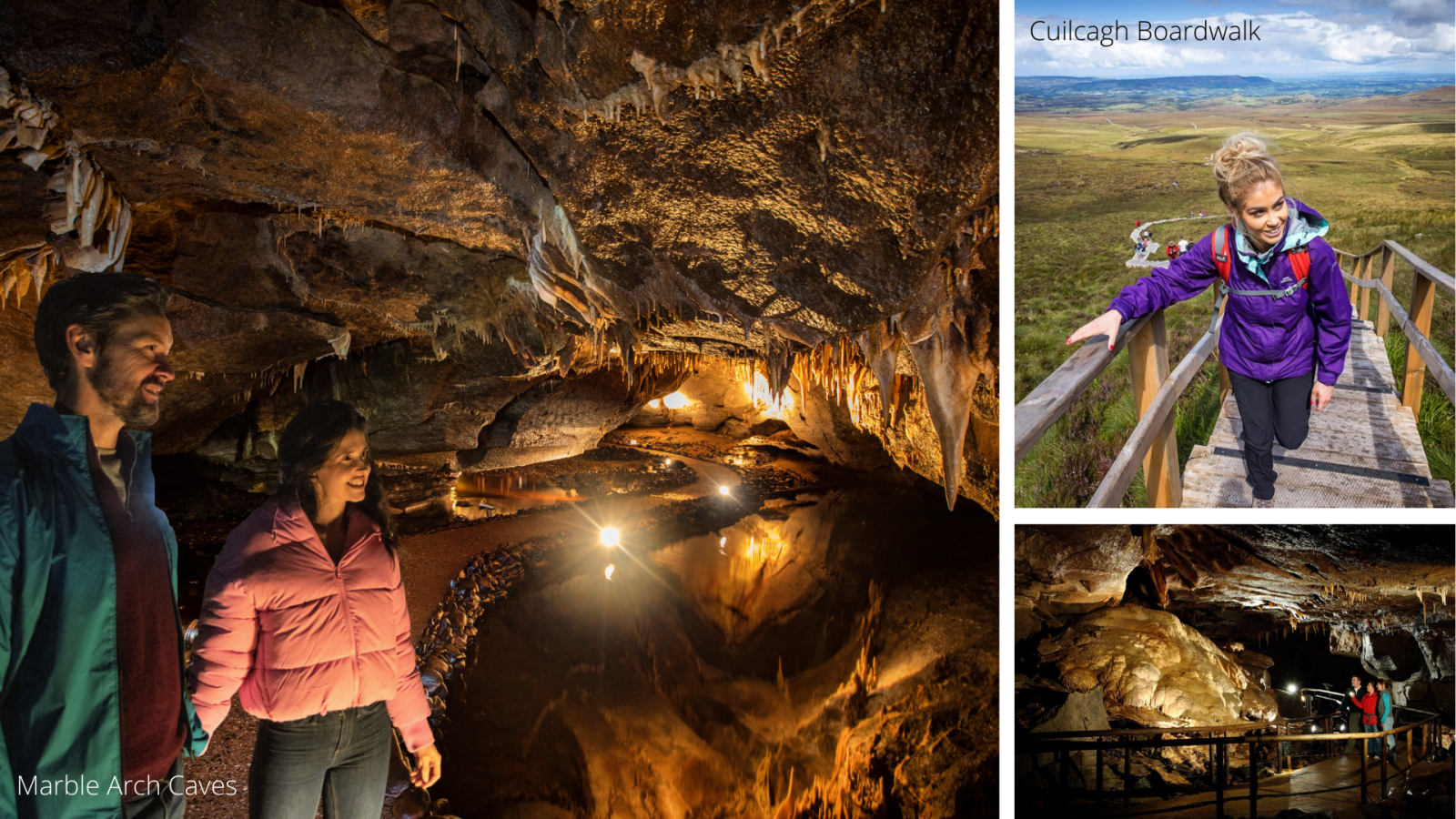 Go underground with a tour of Marble Arch Caves
Explore this underworld labyrinth as you trace the journey of the Owenbrean River and discover its energy as the waters gurgle and splash venturing deeper into the black abyss. Enlighten your senses as you smell, hear and feel this active living cave around you! This exciting tour follows the Yorkshire Ramblers exploratory route of 1935 past hidden tunnels, still pools, delicate formations and stunning reflections. Cuilcagh Boardwalk Trail is a short distance from the Caves and is a wonderful hike for eager couples.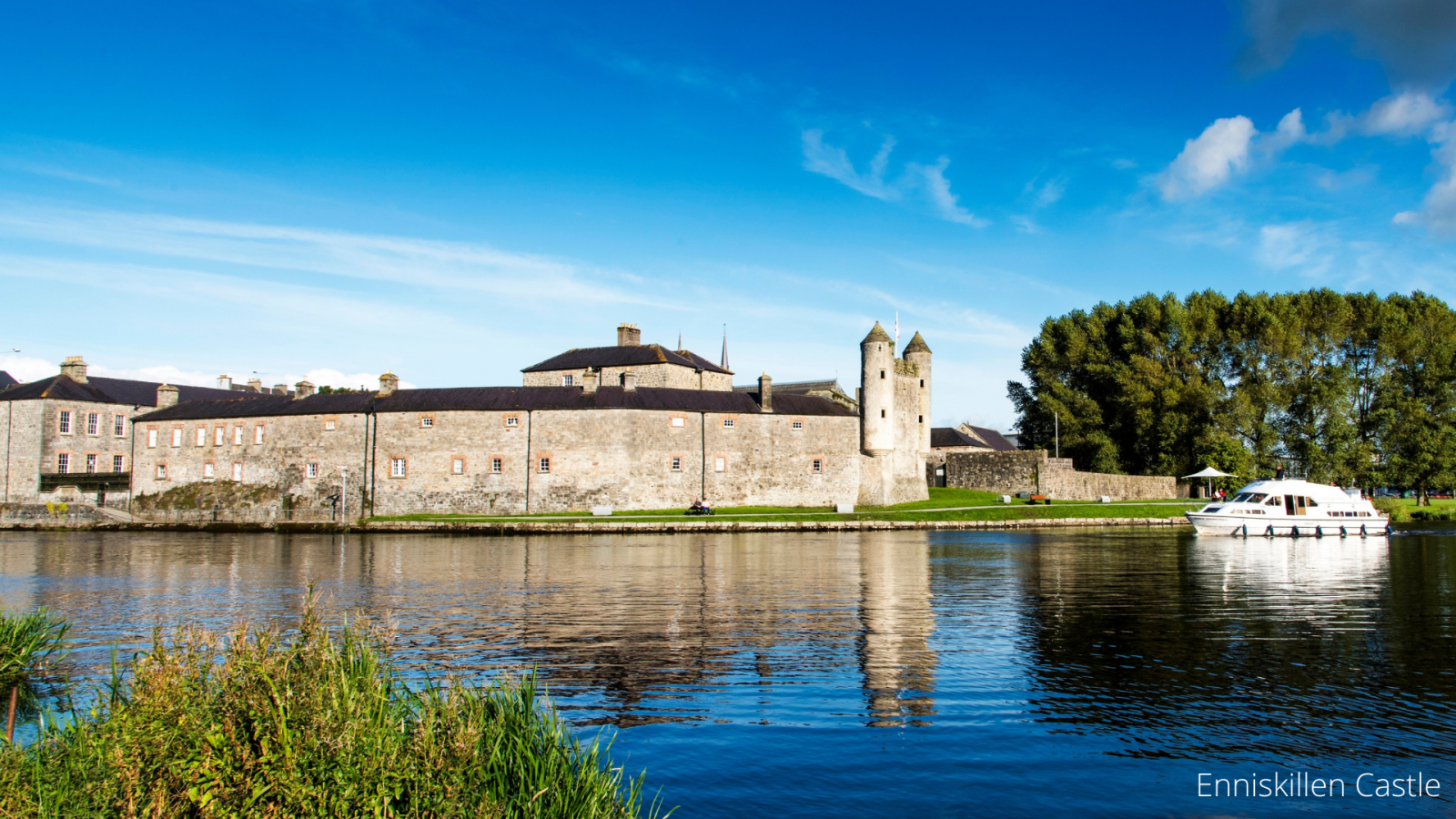 Enniskillen Castle, situated beside the River Erne in County Fermanagh, was built almost 600 years ago by Gaelic Maguires. Guarding one of the few passes into Ulster, it was strategically important throughout its history. In the 17th century it became an English garrison fort and later served as part of a military barracks.

And so to eat….
From our famous award-winning Black Bacon to our gorgeous home-grown gin, the Fermanagh Lakelands has so much to offer its foodie visitors. With top quality locally-sourced ingredients on their doorstep, craft food and drink producers, country kitchens and bakers make the Lakelands a food lovers' paradise. See what Fermanagh has in store for your taste buds!
A romantic meal is a lovely way to spend time together, here are some ideas of fabulous food and options in Fermanagh…..
Tullymill located in a secluded corner on the edge of Florence Court Estate in the foothills of Benaughlin Mountain, Tully Mill is a hidden gem when it comes to dining in County Fermanagh. The picturesque restaurant is under the management of local chef, John Roche. John and his team will be happy to assist you in every way to ensure your visit to Tully Mill is an enjoyable and memorable one
At 28 At The Hollow you will enjoy delicious food that is perfectly prepared using only the best locally sourced ingredients.We want to bring the best out of the food, ensuring flavour combinations that will leave the taste buds satisfied.
Kove at Killyhevlin Lakeside Hotel set on the shores of scenic Lough Erne boasting spectacular panoramic views, Kove offers a dining experience where casual elegance meets in a timeless relaxed atmosphere. The extensive menu offers a varied range of wholesome yet innovative dishes prepared from only the freshest local produce.
The award winning Horeshoe and Saddlers Restaurant has developed a good solid reputation amongst the local community. Diners can choose from a wide selection of mouth-watering starters and popular main course dishes based on steaks, ribs, and seafood, poultry, pork, lamb and vegetarian meals.

Lusty Beg Island whether it's a refreshing pint of Guinness or a plate of fresh local produce, the Island Restaurant offers a warm welcome. The best of local produce is cooked and presented with skill and care and served in a relaxed and informal atmosphere. Specialites - bar food, smoked wild Irish salmon, local Irish fare
Belleek Restaurant at Manor House Country Hotel is a relaxed fine dining experience, the ornate interior with its high ceilings,fabulous wall cornicing detail and stunning views of Lough Erne exude a tranquil and inviting ambience
Francos Restaurant has a reputation as the best place in County Fermanagh to dine, is a direct result of the effort put in by the dedicated team of highly trained chefs, who have over the years, acquired all the experience and skills to produce such quality fayre.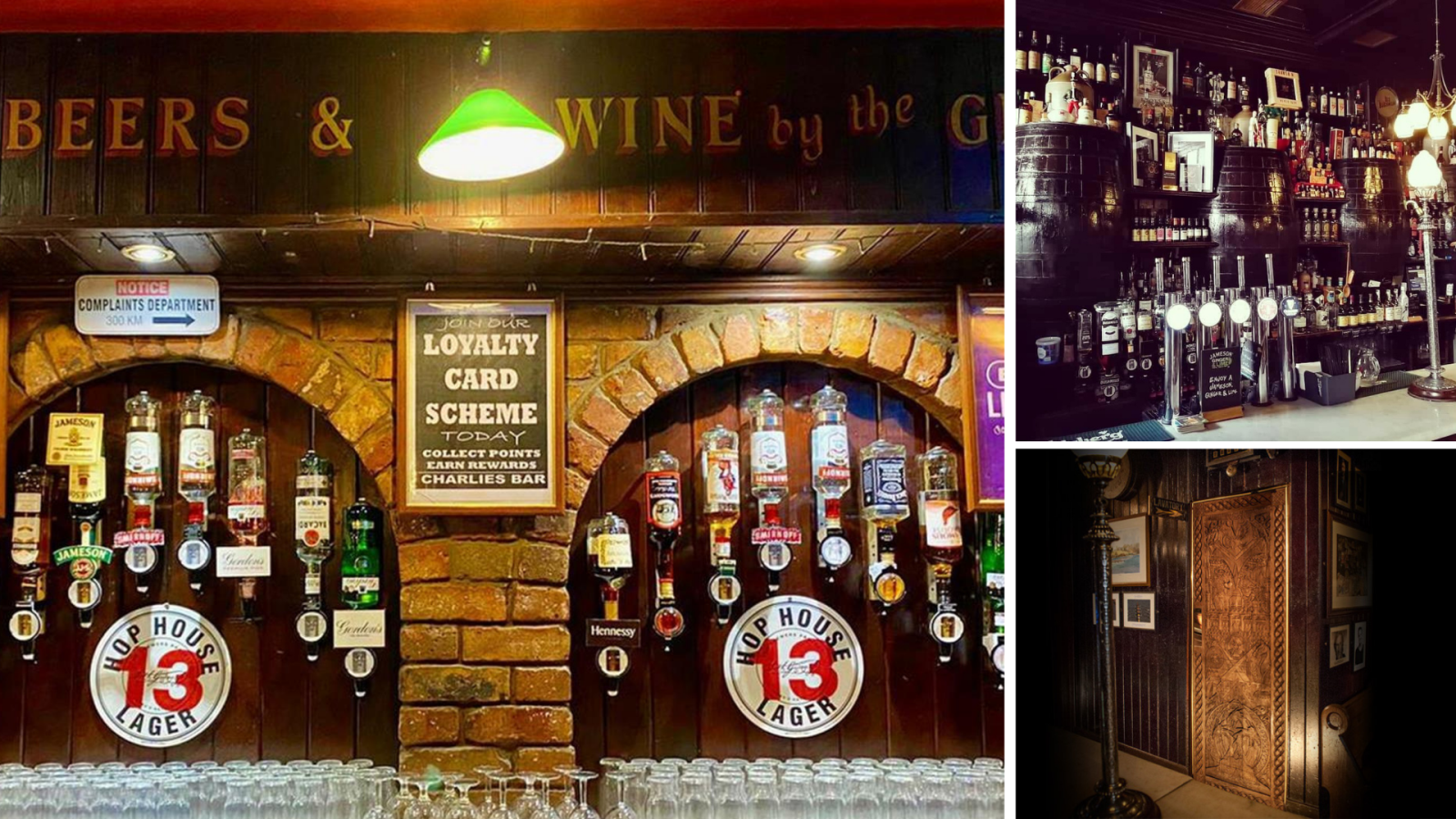 And for a little tipple to end the day on a high, here are our top places to drink options..
Blakes of the Hollow Renowned for its traditional Irish heritage, Blakes of the Hollow Is one of the most famous and well recognised Victorian pubs in Ireland. It is a must see attraction which has graced County Fermanagh's shores for over 125 years. The bar keeps its tradition to the best of its ability and yet suits all different age groups. The snugs are a testament to this, crowded with groups of people looking for a famously poured pint of Guinness or a delicious Irish coffee. Live traditional music is played every Friday creating a genuine Irish pub atmosphere that is not one to be missed.
Charlie's Bar situated in the heart of the island town of Enniskillen, Co. Fermanagh, is one of the town's most established traditional bars. The bar is named after Charlie Burns, the proprietor's father. The bar has been in the Burns family since 1944, when Charlie plied his trade serving farmers, locals and American troops stationed nearby at Castle Archdale.
Pat's Bar is located in the centre of Enniskillen's High Street. The perfect location for a date night for two.
Now that you've got a taste for what's in store why not check out our Special Offers page and book your romantic getaway today...