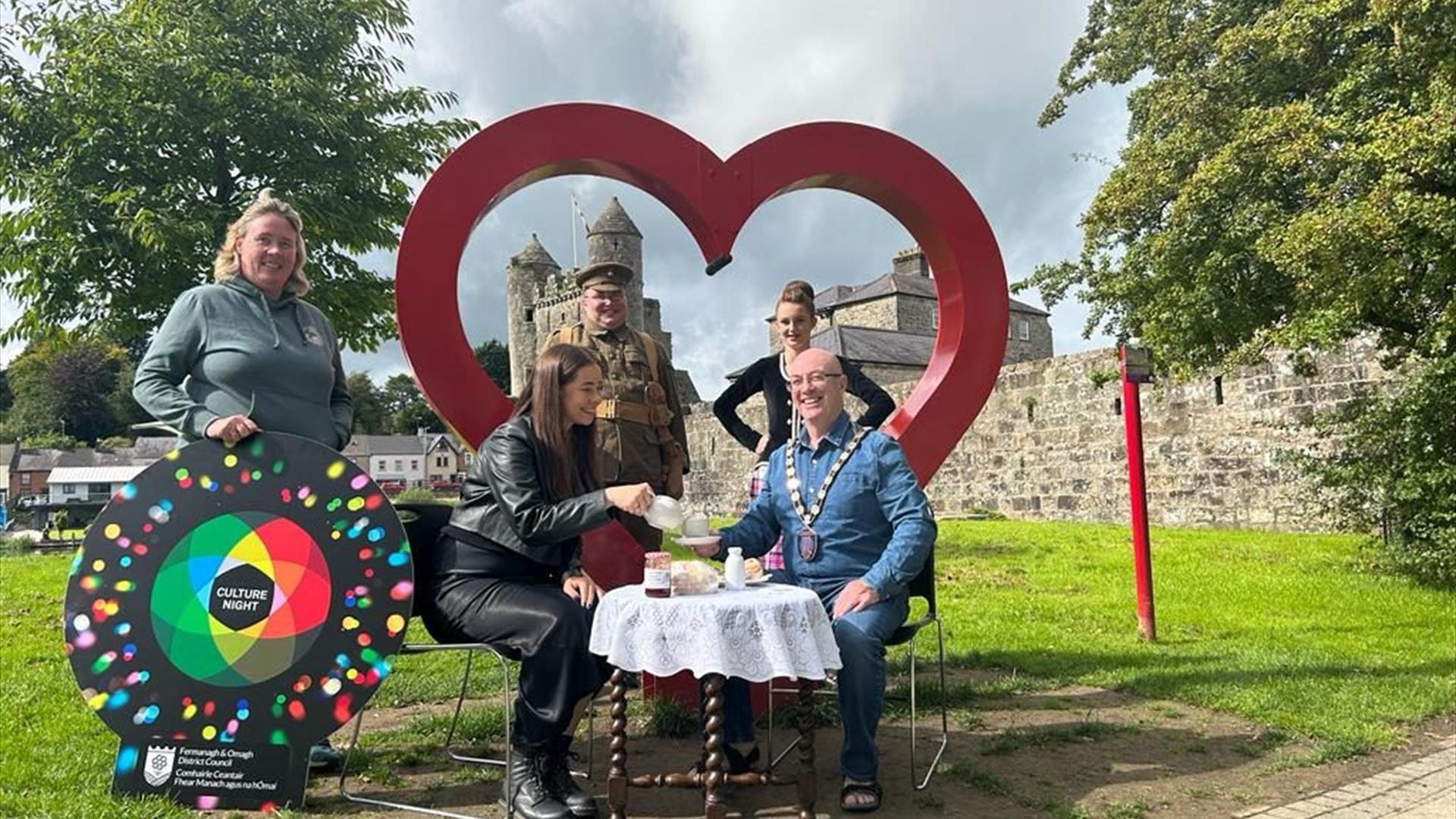 About
Enjoy a Night of Artistic Extravaganza on Culture Night 2023
A varied programme of free events including music, dance, heritage, culture language, literature and film will be taking place across the Fermanagh and Omagh District Council area on Friday 22 September 2023 to celebrate this year's Culture Night.
The Culture Night programme, which has been coordinated and supported by Fermanagh and Omagh District Council, celebrates the richness and diversity of culture in the District.
Speaking about Culture Night, Chair of Fermanagh and Omagh District Council, Councillor Thomas O'Reilly, said:
"Culture Night is always a great night of entertainment showcasing the diversity of cultures in our District as well as the talents of our local residents.
I am delighted that Fermanagh and Omagh District Council has been able to provide sponsorship to 15 groups across the District to allow our residents to enjoy a variety of free events and activities.
I would encourage locals and residents to attend as many of the events and activities as possible and be part of this nationwide celebration."
The Culture Night 2023 programme offers something for everyone including:
· Wonder Trail of Hungary in Omagh Community House – a cultural exhibition exploring the Hungarian community led by Tünde Tasiné
· Night at the Museums in Enniskillen Castle – featuring the Inniskilling and Fermanagh County Museums; Erne Highland Dancers; Global Voices, Local Choices exhibition; and a historic re-enactment from minstrel Boys Living History Group
· A Flavour of our Culture in The Patrician Hall, Carrickmore with Mid Ulster Culture and Arts Trust – experience a variety of cultural foods, stories and traditions
· Autumn Equinox Community Supper in Murphy's on Main Street, Ederney – celebrate rural traditions of harvest, storytelling and reminiscence
· Historical Tour of Sacred Heart Church, Omagh by Michael Cooney on behalf of Drumragh Parish
· Meaning of Local Place Names in Knocks Cultural Centre, Lisnaskea
· Story of PW Nally and The Nally Stand at Pairc Cholmcille, Carrickmore
· Telling Tales in the Lemon Tree Café, Belleek – an evening of Ceílí and storytelling organised by Belleek Development and Heritage Group
· Gael and Gall in Blakes of the Hollow, Enniskillen – an insight to translations behind Fermanagh's native chlanns and family names by Sruth na hÉirne
· Dancing at the Crossroads – an evening of music and dance at Dooish Crossroads, Drumquin with Drumquin Historical Society
· Irish Culture Night at St Mary's Football Club, Maguiresbridge – an evening of Irish music and dance
· A celebration of Ulster Scots Music and Culture in Kirlish Orange Hall
· An evening of traditional Irish music and culture with Tempo Maguires GAC
· Oíche Chuiltúir / Culture Night in Omagh Town Centre (outside Danske Bank) – featuring traditional music and dance
· An evening of Poetry and Prose with Open Door Poetry and Writing Club in The Weigh Inn, Omagh
· Fermanagh Film Club in Pats Bar, Enniskillen – an evening of short films by Irish Film Makers and local Moving Image students
· Omagh Printmakers Initiative exhibition in Strule Arts Centre, Omagh
The Culture Night Programme can be viewed at www.fermanaghomagh.com and www.facebook.com/FermanaghOmaghArts.